▼Selenium–Iodine Cooperative Catalyst for Chlorocyclization of Tryptamine Derivatives
Org. Lett. 2017, 19(20), 5525–5528.

Chlorocyclization of tryptamine derivatives has been developed with the use of a diphenyl diselenide–iodine cooperative catalyst. Various tryptamine derivatives can be smoothly converted to the corresponding C3a-chlorohexahydropyrrolo[2,3-b]indoles. Additionally, we demonstrate the formal total syntheses of (−)-psychotriasine and (−)-acetylardeemin by introducing nucleophiles to the C3a position of the products.
▼Chiral Hypervalent Organoiodine-Catalyzed Enantioselective Oxidative Spirolactonization of Naphthol Derivatives
Muhammet Uyanik, Takeshi Yasui, Kazuaki Ishihara*
J. Org. Chem. 2017, 82(22), 11946–11953.
Pubication Date (web): September 19, 2017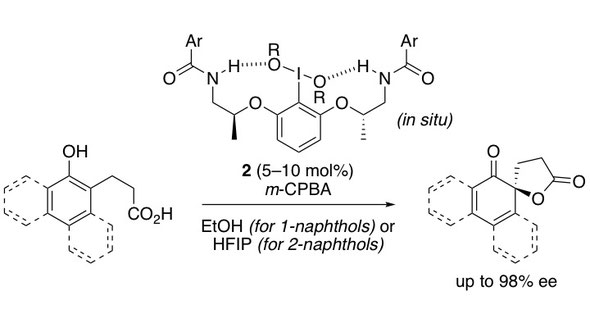 ▼Cover Feature:  Design of Boronic Acid–Base Complexes as Reusable Homogeneous Catalysts in Dehydrative Condensations between Carboxylic Acids and Amines
Yanhui Lu, Ke Wang and Kazuaki Ishihara*
Asian J. Org. Chem. 2017, 6(9), 1111 (Special Issue: 5th Anniversary Board Member Issue)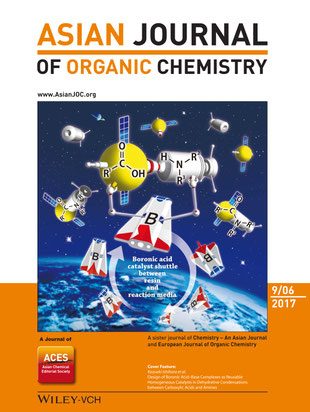 ▼Design of Boronic Acid–Base Complexes as Reusable Homogeneous Catalysts in Dehydrative Condensations between Carboxylic Acids and Amines
Yanhui Lu, Ke Wang, and Kazuaki Ishihara*
Asian J. Org. Chem. 2017, 6(9), 1191-1194 (Special Issue: 5th Anniversary Board Member Issue)
Version of Record online: 17 MAY 2017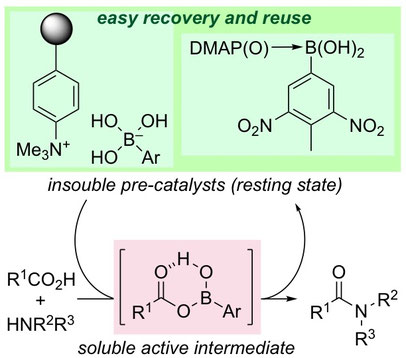 ▼Enantioselective Conjugate Hydrocyanation of α,β-Unsaturated N-Acylpyrroles Catalyzed by Chiral Lithium(I) Phosphoryl Phenoxide
ACS Catal. 2017, 7,
6686-6690

.
Publication Date (Web): August 30, 2017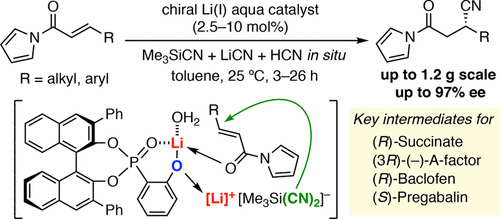 Enantioselective conjugate hydrocyanation of α,β-unsaturated N-acylpyrroles with the combined use of Me3SiCN, LiCN, and HCN has been developed in the presence of a chiral lithium(I) phosphoryl phenoxide catalyst. This reaction is useful for a variety of N-acylpyrroles, including previously unreported substrates, such as heteroaryl and halogen-substituted N-cinnamoylpyrroles. A gram-scale reaction and subsequent transformations to a (R)-succinate, (S)-paraconic acid, and (R)-baclofen demonstrate an entry for the practical synthesis of optically active β-substituted γ-aminobutyric acids (GABA).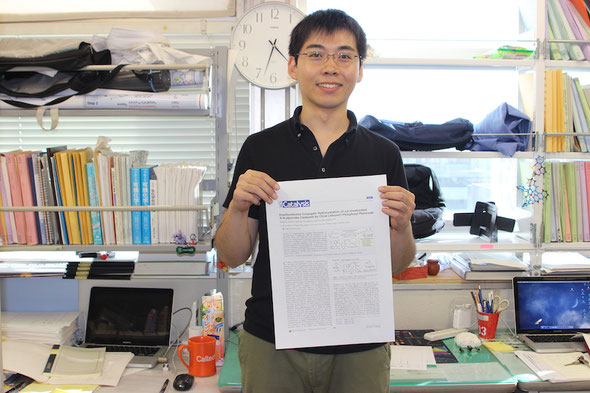 ▼Enantioselective Cycloaddition of Styrenes with Aldimines Catalyzed by a Chiral Magnesium Potassium Binaphthyldisulfonate Cluster as a Chiral Brønsted Acid Catalyst
J. Am. Chem. Soc. 2017, 139(25), 8424–8427.
Publication Date (Web): May 30, 2017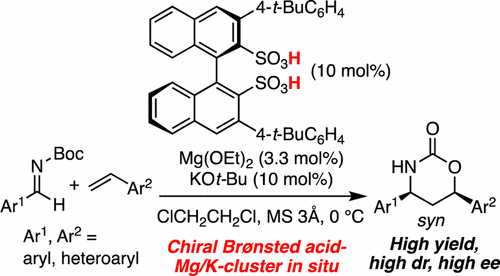 A chiral magnesium potassium binaphthyldisulfonate cluster, as a chiral Brønsted acid catalyst, was shown to catalyze an enantioselective cycloaddition of styrenes with aldimines for the first time. The strong Brønsted acidity of the catalyst precursors, which might dissolve drying agents and take up the leached Mg2+ and K+, serendipitously led to good enantioselectivity. Mechanistic aspects were supported by X-ray and ESI-MS analysis of the catalyst and a kinetics study of the reaction. Useful transformations to optically active 1,3-amino alcohols on a gram scale were also demonstrated.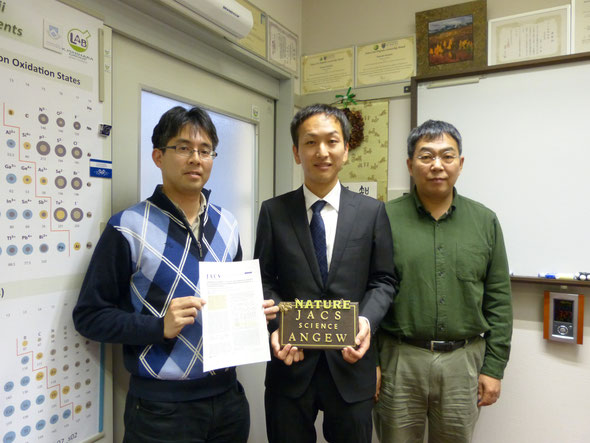 ▼解説記事
Diels–Alder反応の選択性
石原一彰
有機合成化学協会誌, 2017, 75(2), 160.

The acid-base combination chemistry is one of the most reliable concepts for designing high performance catalysts. Acid-base combined catalysts can be classified into two types, ion pair catalysts (type A) and acid-base cooperative catalysts (type B). Type A can be subclassified into acidic/basic/neutral salt catalysts (types A1/A2/A3). Type B can be subclassified into conjugationally noninteractive/interactive acid-base catalysts (types B1/B2). Tailor-made multi-selective catalysts can also be designed based on the acid-base combination chemistry. Our recent progress has been described here.
▼4,5-Dimethyl-2-Iodoxybenzenesulfonic Acid Catalyzed Site-Selective Oxidation of 2-Substituted Phenols to 1,2-Quinols
Muhammet Uyanik, Tatsuya Mutsuga and Kazuaki Ishihara*
Angew. Chem. Int. Ed. 2017, 56(14), 3956–3960.
Version of Record online: 21 FEB 2017 | DOI: 10.1002/anie.201612463
http://onlinelibrary.wiley.com/doi/10.1002/anie.201612463/full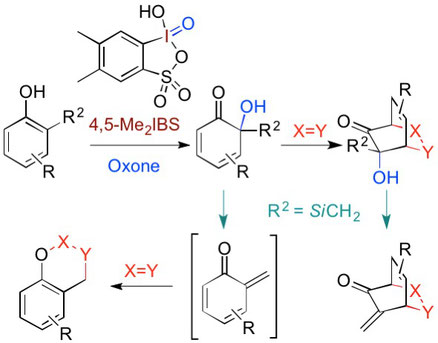 A site-selective hydroxylative dearomatization of 2-substituted phenols to either 1,2-benzoquinols or their cyclodimers, catalyzed by 4,5-dimethyl-2-iodoxybenzenesulfonic acid with Oxone, has been developed. Natural products such as biscarvacrol and lacinilene C methyl ether could be synthesized efficiently under mild reaction conditions. Furthermore, both the reaction rate and site selectivity could be further improved by the introduction of a trialkylsilylmethyl substituent at the 2-position of phenols. The corresponding 1,2-quinols could be transformed into various useful structural motifs by [4+2] cycloaddition cascade reactions.
▼Ammonium Hypoiodite-Catalyzed Peroxidative Dearomatization of Phenols
Muhammet Uyanik, Kohei Nishioka, and Kazuaki Ishihara*
Heterocycles, 2017, 95(2), 1132–1147 (Masakatsu Shibasaki's Special Issue).
Published online: 31st January, 2017
DOI: 10.3987/COM-16-S(S)84
https://www.heterocycles.jp/newlibrary/payments/form/25006/PDF

Here, we report the first transition metal-free peroxidative dearomatization of phenols using hypoiodite catalysis with TBHP. Hypoiodite salts are generated in situ from the corresponding quaternary ammonium iodides in the presence of TBHP, and the oxidative coupling reaction proceeds efficiently under mild conditions. The dearomatized products are versatile synthetic intermediates for further synthetic transformations to various complex structures including heterocycles. As a demonstration, the further oxidation of the unsaturated peroxide with TBHP afforded the corresponding peroxy epoxide in good yield.
▼Enantioselective Synthesis of Masked Benzoquinones Using Designer Chiral Hypervalent Organoiodine(III) Catalysis
Muhammet Uyanik, Niiha Sasakura, Masahiro Mizuno, and Kazuaki Ishihara*
ACS Catal., 2017, 7, pp 872–876
DOI: 10.1021/acscatal.6b03380
Publication Date (Web): December 21, 2016
Copyright © 2016 American Chemical Society
http://pubs.acs.org/doi/abs/10.1021/acscatal.6b03380